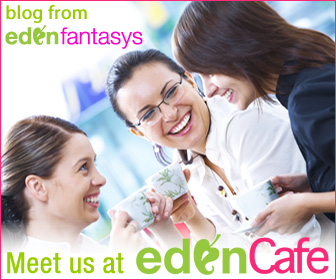 Eden Cafe (a fun and hip division of Eden Fantasys) is a site on the web that I find myself going to more and more often. It does have a lot of great info about adult sex toys, yes that true, but site itself is a wealth of other information. Under the Health & Body image tab there are articles that I always find interesting because they are very topical and more often than not very pertinent to my life. At 35 and happily married for 12 years,...kids now getting older, it's time to start focusing on me and my marriage again. No reason things should be stagnate or boring! Eden Cafe articles about gaining self confidence and wanting to be sexy again are spot on. There is also a relationship tab
with good articles no matter what your age or relationship status. There is nothing taboo on the website and it is very female friendly. A great exploring and reading environment.
They also have a lot of great
contests and giveaways that feature new products - a great way to try out something you've had your eye on!